Chermoula is a marinade that North Africans use in their cooking. It is usually used to flavor fish or seafood, but it can be used with legume and vegetables. Very healthy.
It's strange, for someone who grew up in a Moroccan home, I only discovered chermoula in my early twenties. I discovered it in Mogador, not the Moroccan city, where my grandmother was born but the Moroccan cafe/restaurant in the East Village in New York.
Café Mogador is where I started to embrace my Moroccan roots. I was amazed by how our friends were fascinated by the north African cuisine that for me was trivial and barbaric.
My mother did cook and braise many dishes with the chermoula ingredients but she didn't grind them into a paste. Grinding the herbs and spices together creates a pesto like sauce that has a strong and rich flavor.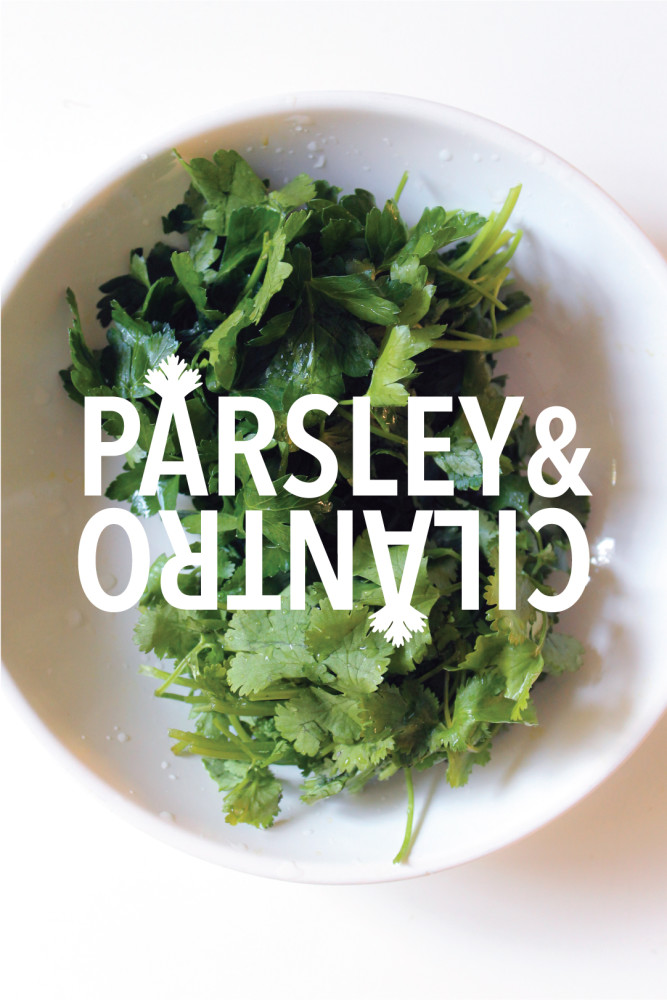 Cilantro and parsley are commonly used in the Moroccan kitchen. I remember as a kid that my mom always had a bunch of cilantro or parsley, or both, submerged in a bowl of water on the kitchen counter.
Moroccan tagines are usually cooked with preserved lemons, but don't worry if you don't have any. Instead you can add 2 teaspoons of lemon juice or one dried Persian lime. (Just poke a few holes in the Persian lime with a sharp knife before you add it to the pot.)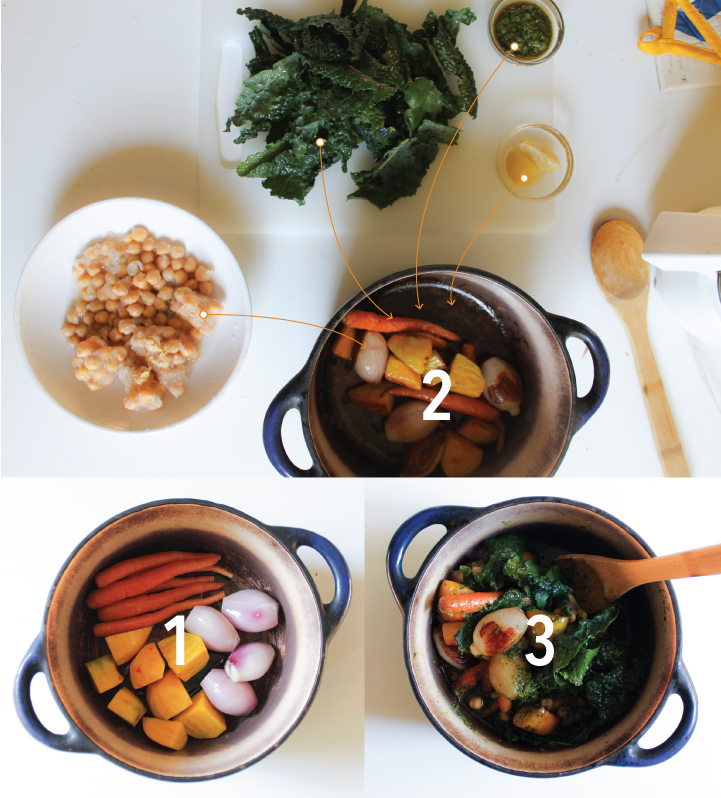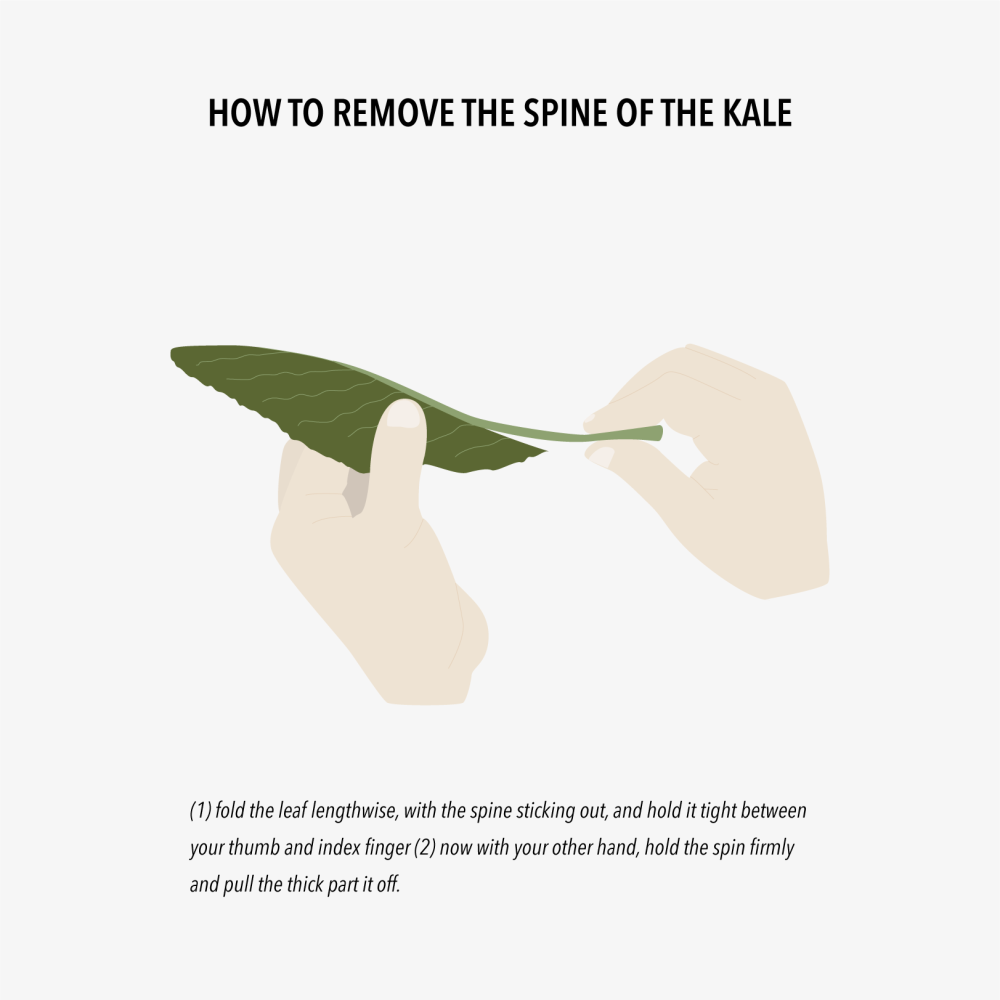 In case you don't know what is a kale spine or how to remove it 🙂 My illustration skills come in handy.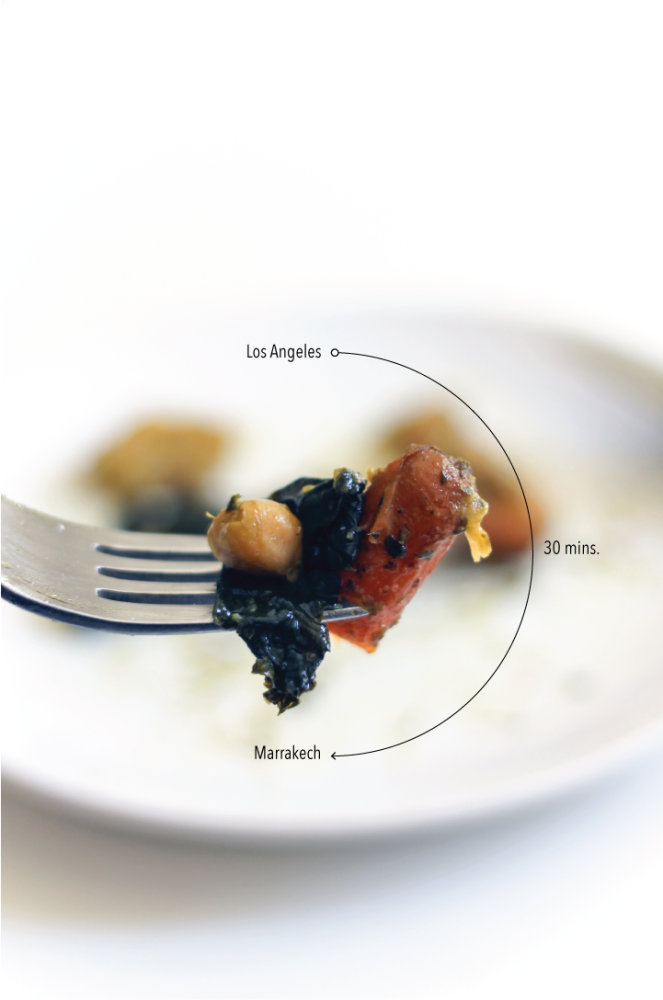 Vegetable Tagine
Ingredients for 4
Half butternut squash (about 300 grams) – roughly diced
4 -6 heirloom carrots or 4 medium carrots – peeled and halved
4 tomatoes – sliced in half
4 shallots – peeled
3 – 4 tablespoons oil (coconut, vegetable or sunflower)
Bunch of kale (or spinach or chard) – washed carefully, and spine removed)
2 cups cooked chickpeas or jarred
2 slices or 1 wedge preserved lemons or 2 teaspoons lemon juice

For Chermoula sauce
Handful cilantro – washed carefully and dried (with a salad spinner or a clean kitchen towel)
Handful parsley – washed carefully and dried (with a salad spinner or a clean kitchen towel)
1" ginger piece – roughly chopped
1″ turmeric root piece – roughly chopped or ½ teaspoon turmeric
3 garlic cloves – peeled
½ teaspoon cumin
2 teaspoons coriander seeds
1 teaspoons smoked paprika
Instructions
Preheat the oven to 400°F.
Put the vegetables (not the kale though) in an oven proof dish and pour the oil over them. Roast for 20 minutes or until the vegetables are tan but not tender.
Meanwhile make the chermoula sauce:
Put the chermoula ingredients in a food processor and process them until you get a smooth pesto like paste. Leave it aside.
Remove the vegetables from the oven and add the the kale (No need to chop them, they will shrink in the oven), chickpeas, preserved lemons and chermoula sauce, sprinkle salt and toss gently. Put the dish back in the oven for 10 more minutes or until the veggies are tender. Serve over Basmati rice, quinoa or couscous, with a tablespoon harissa on the side.