Our little one, Alex (aka Alexander, aka Jacob, aka Sooshi) is obsessed with names.
Everyday, ten times a day, he asks us, my husband and I if we like a certain name. Most days I find his name sake obsession cute but some days when I'm busy or has no patience it drives me nuts. I somehow forget that all I need to answer is "yes" or "no".
"Eema, do you like the name Freddy?"
"Freddy, F-r-e-dddy, not really."
"Aba, do you like the name Moses?"
"Moses is a good name"
"Eema, do you like the name Paul?"
Sometimes when I'm busy or I'm not really sure, I repeat the name over once or twice, not a good thing for me to do because, I ended up getting a speech therapy session.
"Eema, not 'Poll', 'Paul!'"
"I did say Poll!"
"No, you didn't, you said Poll! You're supposed to say Paul!"
"Whatever, I like the name Poll."
One day when I picked him up from school he told me that he doesn't want to be called Alex anymore, not even Alexander, he wants to have a new name. Later that day he asked me if I liked the name Franklin. Without giving it a serious thought, I answered "yes". So now he wants to be called Franklin.
Yesterday, when I told him that I put Chia seeds in the bars he asked me "Do you like the name Chia?" I said "Yes, I love it!" hoping he would change his name from Franklin to Chia.
Today, when I called the blood oranges blood oranges, he said "no! they are called fire oranges".
showing off my first pedi for the season.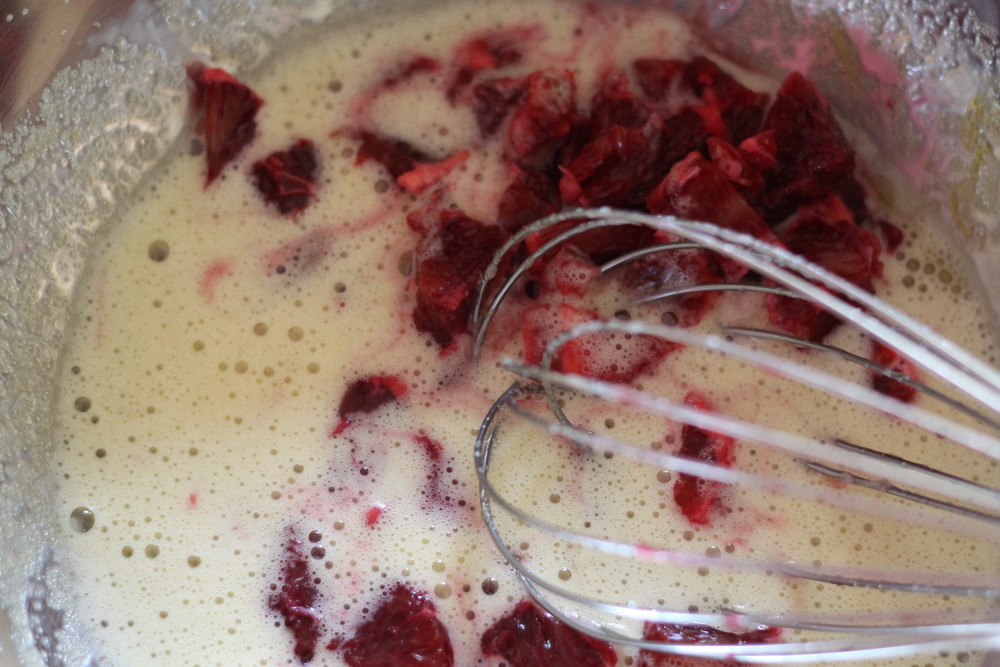 Fire oranges looking like raw meat!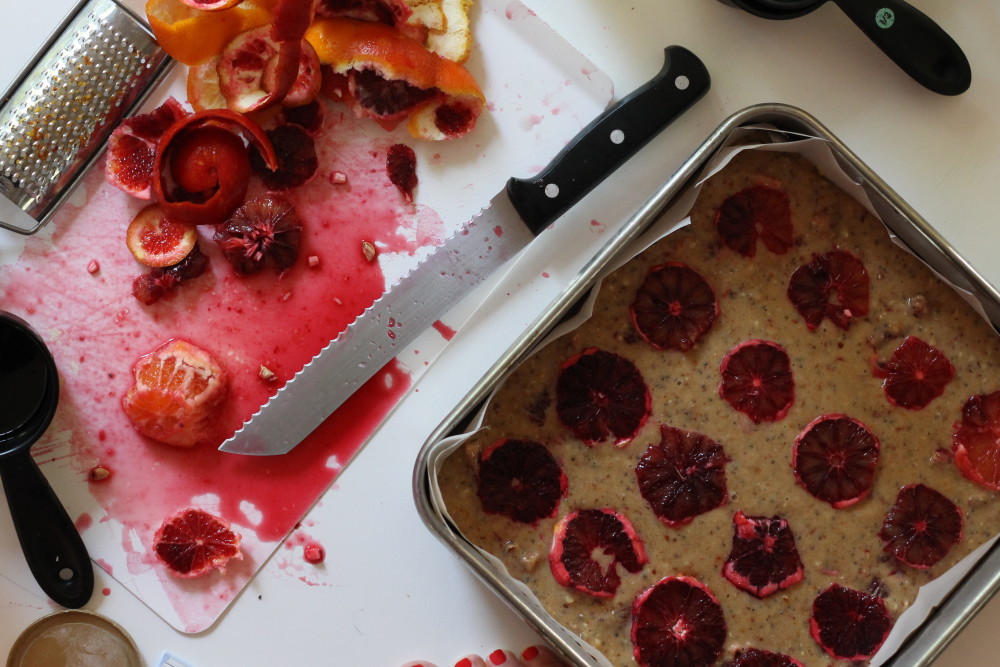 Bloody messy oranges!
Blood Orange Bars
½ cup olive oil or canola oil
¾ cup cane sugar
2 large organic eggs
½ blood orange (or plain)
1 cup blood orange, peeled & diced (look at picture)
¾ cup coarsely ground almonds & hazelnuts (you can use either one)
¾ cup whole-wheat flour (or all-purpose flour)
1 teaspoons baking powder
1 tablespoon Chia Seeds*
2 small blood oranges, sliced thinly
Sugar
*Chia seeds don't contribute to the flavor but to the texture and nutrition value. They are rich in omega-3 fatty acids.
Preheat the oven to 350°F. Oil a 11 x 11-inch cake pan (or any medium square or rectangle baking dish).
In a large bowl mix together the oil and sugar. Beat the eggs into the bowl.
Squeeze the orange into the bowl and add the diced orange, continue to beat for a few seconds.
Add the ground almonds and hazelnuts, flour, baking powder, and chia seeds and mix with a wooden spoon until the batter is well combined and smooth.
Pour the batter into the pan, then gently place the orange slices over in a row with even gaps. Sprinkle some sugar and put into the oven for about 34 – 40 minutes or until a toothpick inserted in the center of the cake comes out clean. Let the cake cool completely on rack, then slice it into squares. Store the bars in a container for up to 3 days.