After my mother confirmed that she was coming to visit in July, I immediately started to look online for cheap tickets for me and Ze'ev to travel somewhere in Europe. (Google Flights and Skyscanner are good places to look.) It's been years since Z and I had a getaway without children. I knew I wanted to go to Italy but wasn't sure where. I found a round trip ticket from Palma to Bologna for €60 with RyanAir so I booked it. I didn't know much about Bologna, but I assumed that a university town that hosts the world's largest childrens' book fair must be a cool place. And I had heard from a bunch of people that Rome in the summer is too hot and crowded.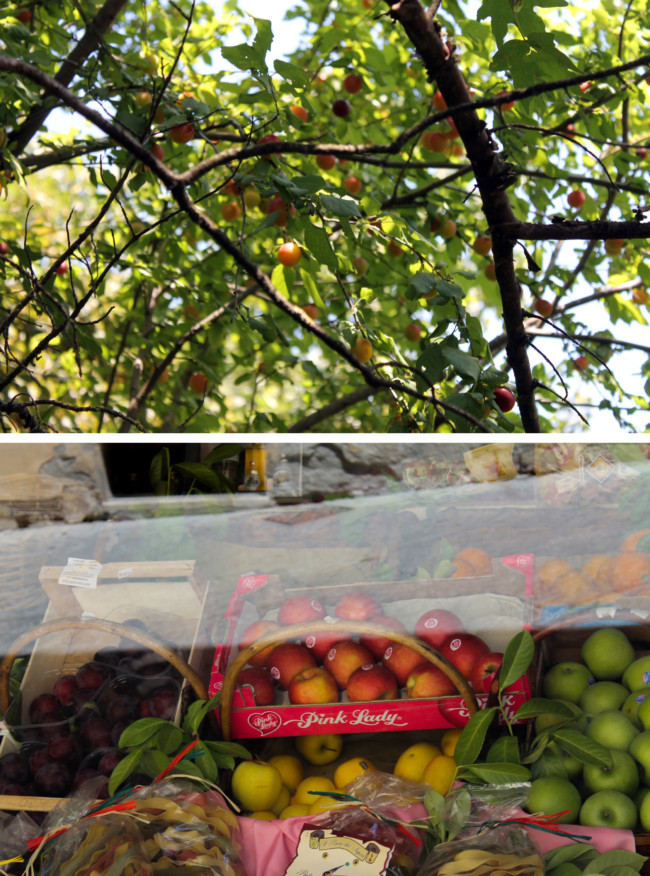 My plan was to rent a car and do a Tuscan road trip: Bologna, Siena, Montepulciano, San Gimignano, then back to Bologna. (We decided to skip Florence because we were there last summer.)
Z the navigator picked the winding, scenic roads. The wow, wow, wow, wow route. I felt like I was driving in a painting. Not that the highway wasn't scenic enough, but we had plenty of time and no children in the back. And on the highway there are no fruit and vegetable stands that sell sweet and juicy Italian peaches and petite, tart raspberries. (Z came up with the brilliant idea of infusing our plastic-flavor mineral water with raspberries.)

And just when I thought that I had had enough fruit for one day, we drove by a huge plum tree, exploding with small and sweet plums. All I could think of – besides how lucky we were to be in this place – was how many jars of jam and galletes I could have made, if this tree were growing in my back yard. There were plum trees all over Toscana.

We weren't really hungry around lunch time but we decided to stop somewhere anyway, because, in Italy, you don't eat just because you are hungry. And also because restaurants close at 2:45 and don't reopen until 7:30pm. I had no intention to miss any opportunity to eat pasta or cheese. In five days we ate as if those were our last days on earth. An hour after we finished a meal, we were already discussing where and what we would eat later.

Navigator Z had an instinct to stop at a town called Pistoia, which is located halfway between Florence and Lucca. Let me just say, this sleepy town was not exciting – but the food at Diversorium Cavour was sensational. Everything we had – from the pici with goat cheese and pistachio – to the spaghetti with fresh sardines – to the homemade anise biscuits – to the cloudy ricotta cheesecake – was out-of-this-world good. And the owners – an Italian chef and his German wife – were lovely.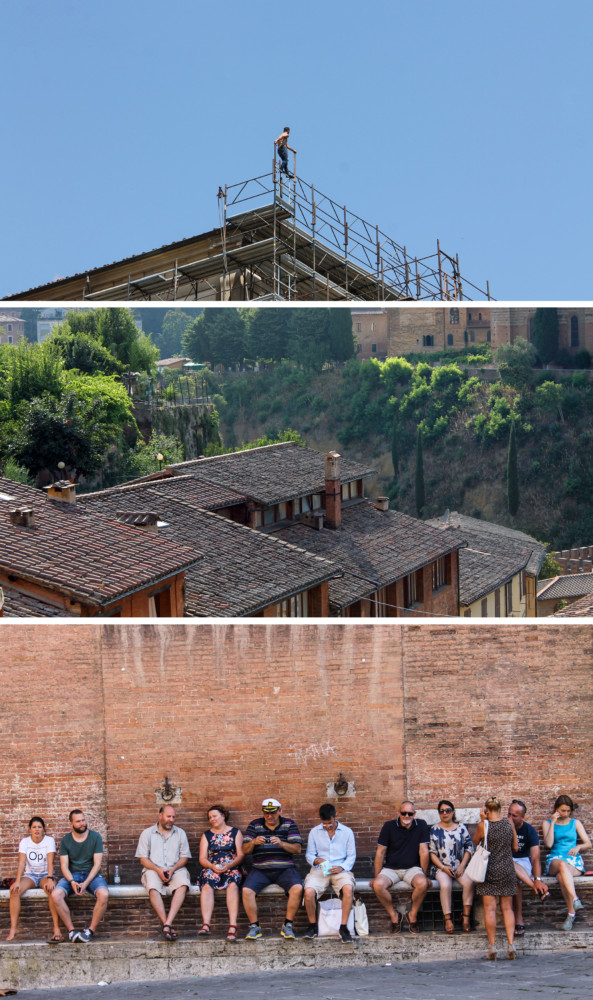 (After we finished lunch, as we were walking back to our car, we passed a small crowd of people and policemen, police cars and a fire truck, all looking up at the building across the street. There was an older man, swinging his body back and forth, on a five-story scaffolding. I couldn't watch, so we left the scene immediately, therefore I have no idea if this drama had a happy ending.)

Our plan was to spend one night in Siena then to drive to San Giminiano the next day. But Siena was even more beautiful – and less crowded – than I expected. We were also feeling a bit as if we were racing not traveling. So we ended up staying one more night. In the morning we drove to Vinci – as in Leonardo Da Vinci – to visit the Da Vinci museum, but unfortunately it was rather mediocre. The informative receptionist at our hotel recommended the Papei restaurant, where the locals eat. Dinner was definitely satisfying, but the next day their lunch was just okay.

Dinner at Vineria Tirabusciò was compensation for our lunch experience at Papei. I love it when cooks take the quality of their produce seriously, like the charming husband & wife owners of this quaint little wine bar. Every plate that came out from the kitchen/bar was simple yet rich in flavor, from the platter of local artisan cheeses, to the Tuscan organic wine, to the pomodoro bruschetta, to the chocolate salami dessert (I know, sounds terrible, but it was absolutely DI-FUCKING-VINE. It's basically a chocolate roulade with chunks of biscuits.)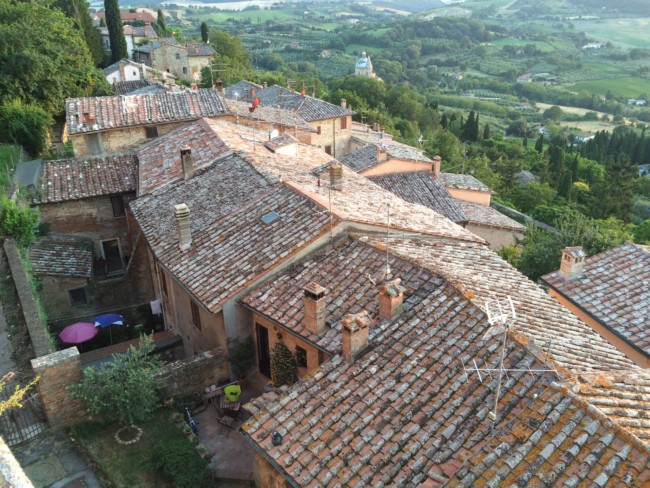 Our next stop was Montepulciano, which looks like a lot of medieval villages in Mallorca. They also have narrow streets with long rows of stone-faced townhouses with green shutters. Arched entryways with tall, rustic wooden doors. Flower pots hanging from the windows and lines of clothes drying on stretched cords. There's a church or two or three and a bell that rings every quarter hour. Shops that sells ceramic dishes, straw baskets, and local souvenirs. The big difference between Montepulciano and those Mallorquian towns is that in Italy the food, pastries and coffee are much, much better.

Each time we bumped into a delicious pastry or gelato we thought out loud how Leo and Alex would love this place. We agreed that we must visit again, soon, with them.

The trip was excellent but, next time, I would only spend a night or two in a small village and the rest of the nights in the countryside of Toscana, in a house or hotel surrounded by Tuscan landscape, yellow carpets of sunflowers, perfect rows of vines, and proud cypress trees.
Things you must eat in Toscana:
Pici!

(pronounced

"pee-chee"

)

Pici pici pici

… I just love saying it! Somehow I'd never heard of

pici

before arriving in Tuscany. Pici is like spaghetti, but much chubbier. Imagine an Italian udon noodle: chewy, doughy and comforting. It's like the official pasta of Tuscany.

Ribolita, even if it's 40 degrees (or 100 degrees) outside

Chocolate Salami – Salame di cioccolato

Any local cheese

Agostino pastry

The yogurt layered cake we had for breakfast at

Hotel Due De Cigni,

five minutes from Montepulciano. I normally never eat cakes for breakfast or hotel breakfasts, even if breakfast is included. But as I passed by the buffet of cakes on my way to get tea, I couldn't ignore the homemade cakes that looked like classic loving-grandma cake. I cut myself a slice of four-layer cake that brought back childhood memories and placed it on a napkin to eat later but I was so seduced by it that I finished it and took another helping. The sympathetic owner was happy to share the recipe with me. By the way, the family who runs the hotel is extremely nice and helpful.