When I was a kid, the only type of pumpkin (Dla'at in Hebrew, not as fun to say as pumpkin or pumpking as Alex used to call them when he was a toddler) we had in the not-so-holy-land was those big Halloween-decoration pumpkins. We also didn't have winter squashes, which I find more dense and flavorful than pumpkins. I roast the squash before I add it to the soup because the dry heat caramelizes and makes it more delicious. If for some reason you can't roast it, dice and add it to the pot with the rest of the veggies, It would still be good.
Fish sauce alternatives: so I googled plant-based fish sauce – so oxymoron – and discovered Fysh, a fish sauce made from algae so I ordered a bottle. Algae I'm counting on you. Until the next soup xxx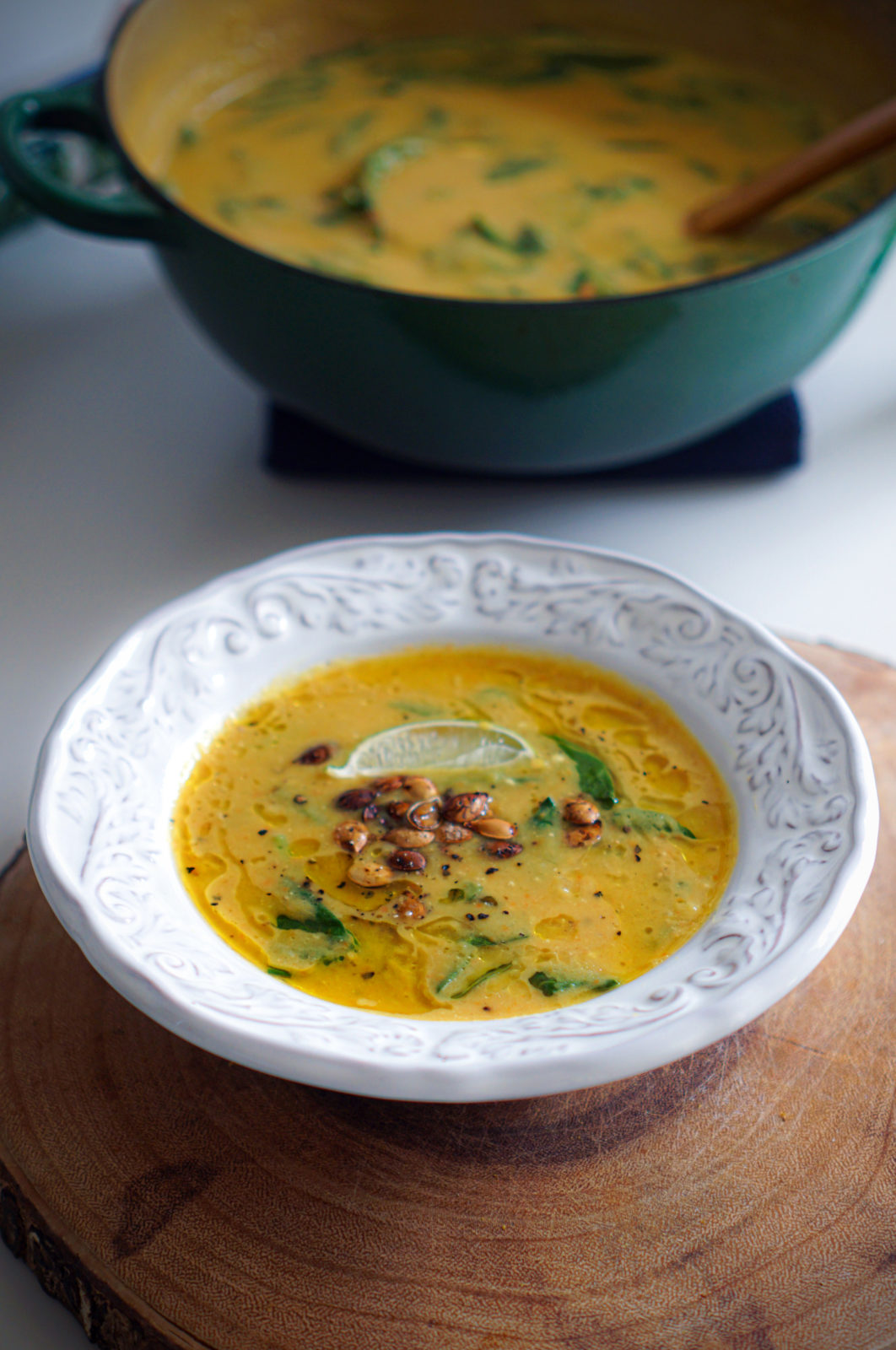 coconut pumpkin soup
Ingredients
1

acorn squash

-

1lb. pumpkin or medium butternut squash

2

tablespoons

ghee or coconut oil

1

medium onion

-

diced

3

celery stalk

-

sliced

2

small carrots

-

sliced

1

teaspoon

turmeric

½

teaspoon

cinnamon

1-2

star anise

1

tablespoon

fish sauce - optional

Sea salt

1

can coconut milk

2

handful baby spinach or regular spinach chopped roughly

1

lime - optional
Instructions
Preheat the oven to 400F/200C. Cut the acorn squash in half and remove the seeds but don't throw them away, put them in a colander and rinse them. Place the acorn squash on a baking tray lined with baking paper, skin facing up. Put the seeds on the tray too, sprinkle a bit of salt and bake until squash is tender, about 15 minutes. The seeds will toast in 10 minutes.

In a medium pot melt the ghee or coconut oil over medium-low heat. Stir in the onion, celery, carrots and spices and saute for 5 minutes. Add 6 cups water, fish sauce and a pinch of salt and bring to a boil. Boil for 5 minutes then lower heat to simmer and cook until the acorn squash is ready.

Let the squash to cool for a few minutes, then using a spoon scoop the its meat into the soup. You can also peel it and then adding it to the soup.

Remove the star anise and pour in the coconut milk. Using a hand blender blitz the soup until it's partly chunky but mostly smooth.

Add the baby spinach and cook on medium heat for 3 minutes then remove from the heat.

Serve immediately with a few drops lime juice and the toasted seeds or store in the fridge up to 3 days.